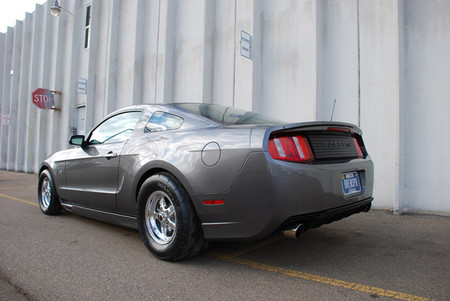 SMS Supercars unveiled the first CAD illustrations of the 2010 SMS 460 Mustang. The SMS 460 Mustang will be the only Mustang authorized to bear Steve Saleen's name, to use the benefit of his heritage and to incorporate his performance innovations derived from over thirty years of racing and manufacturing experience.

"The SMS 460 Mustang embodies everything I stand for. It reflects my unrivalled tenure in the Mustang business, my passion and love for the Mustang brand," said Steve Saleen, President and CEO of SMS Supercars.

The SMS 460 Mustang's striking design separates it from any other vehicle in the market. With design lead by SMS Chief Creative Officer Phil Frank, the SMS 460 Mustang is in final tooling and prototype testing stages. The market launch is planned for late 2009.
The SMS 460 Mustang will offer a 4.6-liter V8 engine featuring 470 hp and 427 ft-lb of torque, while the even more powerful SMS 460X Mustang engine with all new internals and extensive headwork pumps out 655 hp and 600 ft-lb from the enlarged 5.0 liter V8. Both use the new SMS 296 Supercharger for their incredible horsepower and torque gains. Transmission options are a 5-speed automatic or 5-speed manual on the 460 or a 6-speed SMST manual on the top of the line 460X.
SMS 460 Mustang Performance
The SMS 460 Mustang accelerates from 0 to 60 in under 4.5 seconds, while the 460X manages the same in closer to 4. In addition to engine output, handling, road holding and braking improvements, the 2010 SMS 460 Mustangs will feature Steve's signature Watt's linkage suspension with all-new geometry. New SMS 15" six piston front and 13" four piston rear brakes deliver impressive stopping power to match the jaw-dropping acceleration. An available 21" rear wheel upgrade will help harness those mighty ponies. The SMS 460X Mustang will also feature the unique Steve Saleen Red Butterfly Induction System. The interior, with all-new Alcantara and leather SMS performance seats, features the patented Signature Series chevron stripes. Multiple seat chevron and SMS unique exterior colors are available through the SMS Tailor Made options.